By Ossi Turunen, Bournemouth University
Since having done my internship with the SAMARCH project in the autumn of 2018, I have been working on a communications work package in order to produce a newsletter for the SAMARCH project. This newsletter is designed to provide information to the public non-scientific audience and the stakeholders of the project on the latest research done in association with SAMARCH as well as any events, other projects or placement opportunities related with SAMARCH.
I have been collecting and merging information from the leading researchers of the project and working closely with the project manager Dylan Roberts and Professor Genoveva Esteban from BU in order to produce an informative but easy-to-understand medium to make SAMARCH more accessible for more people. I have also been advertising the upcoming newsletter when I have been representing SAMARCH on various events including The Family Science Festival in Dorchester and the Global Engagement Fusion Seminar at BU.
Lately I have been working with the overall design of the newsletter as well as finalising the content with Dylan Roberts. The first SAMARCH newsletter is just around the corner now and it can be expected to be sent to the subscribers very soon. If you are new to this project and would like more information you can visit the project website and if you would like to subscribe to the newsletter you can email Dylan Roberts droberts@gwct.org.uk.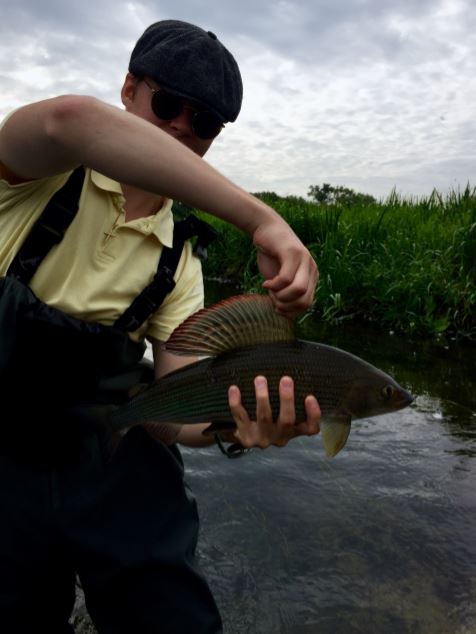 The newsletter will be a frequent information package keeping our stakeholders and subscribers updated on the project. There will be more blogs coming from me as well, as
I am going to volunteer with the smolt trapping work after Easter. I am very much looking forward to that!
Thank you for reading and keep your eyes open for the brand new newsletter!
My name is Ossi Turunen, I'm a 2nd year Ecology & Wildlife Conservation student studying in Bournemouth University and I have been working with the SAMARCH project since August 2018, when I undertook an internship as a research assistant. I helped with the parr tagging process and have since been working on with a communications work package in order to develop a Newsletter for the project.