By Yums Cleary, Bournemouth University
The very enjoyable and practical  SAMARCH placement collects data to monitor salmonid populations and their habitat throughout various stages of their lifecycle. Habitat assessment is a valuable tool in river management; providing information on individual and collective factors; recording  optimum conditions and highlighting areas of concern where restorative action may be taken. Sites were approximately 100m, and some were consistently  assessed annually. Site lengths  were subdivided into equal segments where measurements taken at 5 points across the width included  depth, flow (velocity), vegetation cover and type of substrate. Assisting with these assessments broadened my understanding of the sensitive  dynamics of the riverine ecosystem and the value of long-term monitoring, particularly pertinent with increasing anthropogenic  and climatic stresses on freshwater species.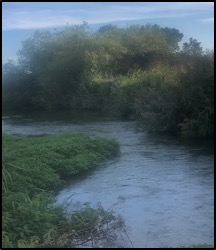 Figure 1: The dynamic river: the River Frome near Dorchester September 2022. Lower flow allows marginal vegetation to expand; here the cress having expanded into the stream, helps keep the flow in the channel and maintain depth.
The enjoyable work with SAMARCH