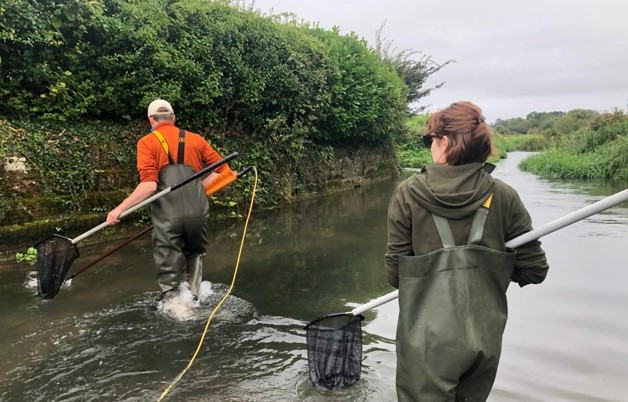 By Ellen Baugh, Bournemouth University
I joined the SAMARCH team in the final week of the salmon and trout tagging season. Although my time there was brief, the research team gave me great training and I was given the opportunity to take part in all roles available to students. This included data entry, processing scale samples, as well as more physical roles aiding the fishing team in the river. I particularly enjoyed the more physical aspects and spent a large portion of my time in waders, netting parr and hauling equipment up the river.
I was able to develop my skills in fish and habitat identification, tagging and biometrics, as well as gaining a deeper understanding of chalk-stream ecology and ecosystems. In addition, it allowed me to work alongside and network with a diverse and skilled group of experts, who were eager to share their knowledge as well as discuss global conservation-related topics, which I found an invaluable part of the experience.
Ultimately, I gained a real insight to the pressures that many river-systems face, as well as gaining necessary hands-on experience essential for a career in practical conservation. Overall, I thoroughly enjoyed my time and would highly recommend undertaking a placement with SAMARCH!
Parr tagging on the Frome