By Carl Sutton, Bournemouth University
I was lucky enough to take part in the final two weeks of SAMARCH tagging of trout and salmon parr project in the river Frome in Dorset. Sampling groups consisted of industry experts and volunteer students. My team was always willing to do their share of all the relevant jobs, as such work remained interesting throughout. Prior to this experience I had very limited knowledge of freshwater fish. I learnt a great deal about key identification traits of target species, but also about other fish observed. I believe that I have an increased understanding of salmon and trout and their habitat requirements. An added bonus was that I met industry experts willing to share their knowledge and chat about conservation issues relevant to freshwater environments.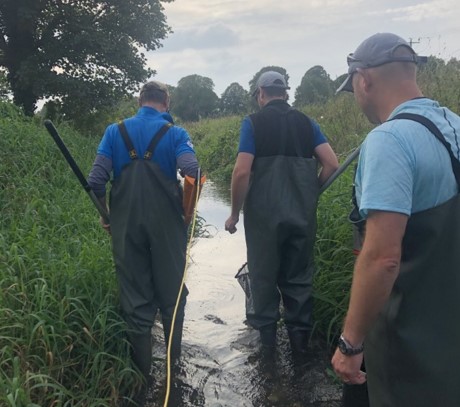 The day composed a mixture of physical and mental activities to collect, measure, tag and subsequently release captured trout and salmon parr. My time was split between "in" and "out" of water duties, to catch the fish, acquire the necessary data and then log this for long term studies. I was always impressed by the efforts taken to minimise the stress and impact on the fish, an ethos forefront in our mind throughout the process. Although the days were dedicated to work and scientific rigour, it was mixed in with generous helping of humour making the time fly by, before I knew it the placement was over! This placement comes highly recommended.
Lucky to be part of the SAMARCH team by Carl Sutton