International Women's Day has been marked on 8 March since 1913, when rallies were held to campaign for women's rights to work, vote, hold public office and end discrimination. Today it is a global day to celebrate and highlight the achievements of women while continuing to call for gender parity.
Ahead of International Women's Day 2022, the Game & Wildlife Conservation Trust (GWCT) asked a few of its many talented women about making it in conservation. They featured Céline Artero, Fisheries Scientist on the SAMARCH Project. Read her interview below.
Fisheries Scientist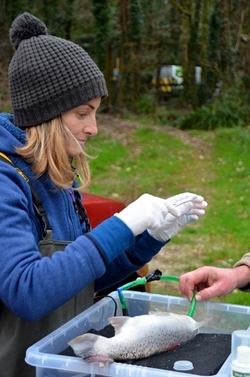 Céline has been with the GWCT Fisheries team, based on the River Frome at Wareham, Dorset, since 2017. As a fisheries scientist, she tracks young and adult fish during their migration from freshwater to the sea, investigating their behaviour, migration routes and timing. She also looks at mortality rates during migration, researching the factors influencing fish mortality.
Céline comes from France and completed her university studies there, along with internships in the French Overseas Department of Mayotte in the Indian Ocean, and in Australia, followed by a PhD in French Guiana, studying the biology and ecology of an critically endangered species, the goliath grouper. Working on the SAMARCH (Salmonid Management Round the Channel) project is Céline's third post-doctoral position.
"I am a researcher because I love discovering, understanding more about how nature and biodiversity is working," says Céline. "It is very exciting to solve mysteries."
It is important to Céline to see the application of her research. "I need my discoveries to be associated with some practical action to protect and conserve aquatic biodiversity," she says. "Increasing the knowledge on fish ecology allows humans to adapt their activities, such as fishing, aquatic construction and development, and reduce their impacts on the fish population in order to maintain both human needs and our beautiful biodiversity."
Outside work, the aquatic theme continues for Céline, who has been a keen diver since the age of 17; a hobby that influenced her career choice. To be accepted into a career area largely dominated by men, Céline says she has had to demonstrate her skills and her strength repeatedly.
"I developed techniques to do the same physical tasks as men even if I don't have the same physical abilities – this helps to be accepted."
If she were to offer advice to her younger self she would say: "The road will be long and full of pitfalls, but don't give up!"
Her career so far has offered Céline many memorable moments, from winning a sport fishing contest with fishermen during her PhD, to some of her findings being used to change fishing regulations, and discovering that a highly territorial fish species was able to complete a 1,000km migration.
International Women's Day 2022: Celebrating women in conservation