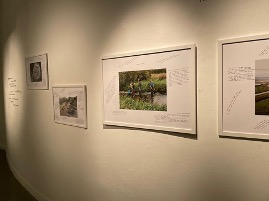 To coincide with COP26 in November 2021, Cape Farewell (https://www.capefarewell.com/) and Lighthouse (Poole's centre for the arts https://www.lighthousepoole.co.uk/) hosted a climate/arts festival to illuminate current climate science issues through thought provoking and engaging new artworks, film, poems, poetry and debate.
The RiverRun exhibition, based on SAMARCH research, showcased the threats to salmon in the River Frome through incredible and powerful new artworks. The Frome is renowned for its salmon run and breeding ground, which is sadly under threat.
The extraordinary exhibition showcased artworks by David Buckland, Anna Frijstein, and Helen Moore. It highlighted the importance of keeping the river in good health, and how this will not only benefit salmon but other wildlife too.
To find out more visit the RiverRun exhibition website here: https://www.capefarewell.com/riverrun-exhibition/?fbclid=IwAR3jdbJDs7m695ySrztB6mSuwdc6CLG9-4mdWGKZxDJCwk74z-5JMdVpWBQ